Written by Stephanie Puckett on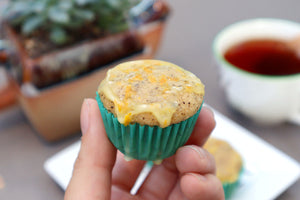 This time of year, there's nothing like a bite-sized sweet to go with your New Year's diet. These cupcakes are delightfully fluffy, tangy, and unique, and they won't spoil your dinner! Pop one or two into your lunch bag for an afternoon snack, or have them with a cup of tea in the morning. This make-at-home recipe was inspired by the London Fog Cake offered at Nuflours Bakery in Seattle. Instead of our usual frosting, we made these mini cupcakes with a simple orange zest glaze for a light, delicate little treat.   Earl Grey Mini Cupcakes Makes about 4 dozen  ...
Read article →
---
Written by Kimberly Arenas on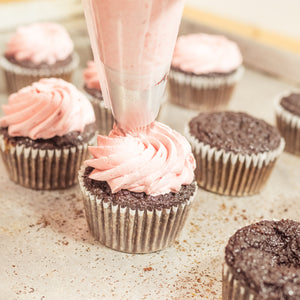 Valentine's Day cupcakes are a great way to celebrate the month of love and are a classic treat. You probably already have your favorite flavor cupcake combination in mind for this Valentine' Day, but here at the bakery we like to mix things up a little and wanted to share some of our favorite frosting recipes.
Read article →
---
Written by Phebe Rossi on
Halloween cupcakes are easy to make and fun to decorate! With just a few tools and a little creativity you can make your very own gluten free Halloween treats. Here are some of our favorites.
Read article →
---